The Family
Connection
Genealogy
Webring
---
The Family Connection Genealogy Webring is the newest net ring in our
family of webrings
. The purpose of this webring is to increase the exposure for any web site that is devoted to genealogy research. Be it a personal web site or a commercial web site. As long as your site has something to do with genealogy, then this webring is for you.
---
To Join the Family Connection Genealogy Webring, your site must meet the following requirements:
Requirements:
Your site must deal with genealogy.
No adult, pornographic content, sites advocating any kind of hate or discrimination toward any group. These type of sites will not be allowed into the webring.
You must display the webring HTML fragment code (see below) on the site that you submit to the Family Connection Genealogy Webring. If you have a web site but it does not allow you this capability, then write to the Webring Manager to request help.
Before you submit your site, save the graphic below to your own server where your web site is stored. Do NOT pull from this site; the server where I store the grpahic will not allow other URL's to link directly. The graphic will not work if you do not store it on your own server. And if the graphic doesn't work, your site will not be added.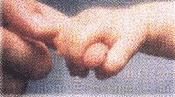 Save this graphic by right-clicking on it
and then clicking "Save As"
After you have submitted your site in the Queue, you will receive the webring HTML fragment code in your e-mail. This is the code you must place on the web page that you submitted. Do NOT copy the code from this page, it will not work for your site.
***Do not copy this webring code. Yours will be sent to your e-mail that you entered with your submittal.***